Links:

This here Alice Machine Project is my Brother's website. It's filled with his multitudinous projects including the fascinating Alice. As soon as he posts his E-mail address make sure you mail him demanding publication.
RAVELITE.ORG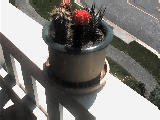 Graham Coleman, bassist for the infamous Bertolli Quartet, has set up a site with a keen eye for design. Describing the future state of his Internet enterprise, he once wrote, " I hope to make this place a wash of content and informational noise." See if you'll believe him after you take his site for a spin.
This website showcases High School's For Girls, the comic of the famed international lover, Cameron T. Bogue. I know what you are thinking: "does the 'T.' stand for 'Tiberius'?" The answer is no.

My wife's personal boutique. Fellows, get your special someone an affordable, fashionable, and hip gift..
Please E-mail if you would like to be included on my link page as a personal friend of Goofy Gorilla.